If at least one series has been selected in the list, the Operating data specification area appears on the right.
| | |
| --- | --- |
| | If the automatic selection of all series has been specified for an area of application, this area is immediately visible. |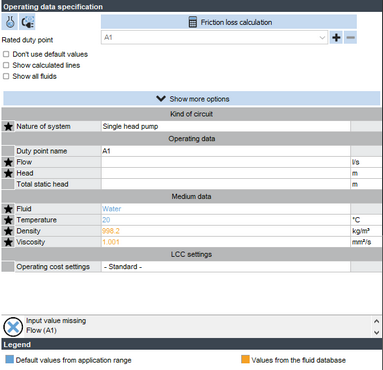 Various functions are available in the upper part of this section.
Fluid values

This button allows changing the fluid to be used for the selection. This function is particularly important if you intend to use a fluid that does not belong to the standard fluids of the respective application.

Available LCC settings

Friction loss calculation: Spaix PipeCalc is a pipe calculation program for unbranched piping systems and for systems with identical, parallel lines. The aim of the program is to determine the duty point (Q-, H-value).

| | |
| --- | --- |
| | The use of Spaix PipeCalc as software for friction loss calculation for centrifugal pumps is only possible by integrating the program into the Spaix pump selection software (license extension). The calculation results are directly transferred and can thus be used as a default for the hydraulic selection of a pump. |
| | |
| --- | --- |
| | Do not use default values: If this option is active, the default values shown in blue in the list are removed. These must then be entered manually. |
| | |
| --- | --- |
| | Show calculated lines: If this option is active, the calculated complementary quantities are also displayed in the list. If the option is not selected, the calculated values will be hidden. |
Show all fluids:


| | |
| --- | --- |
| | Complementary quantities are flow/mass flow, head/pressure and head/pressure (only available in the extended view). |


The values required for the application and thus the selection have to be defined in the parameter list. For a detailed description, see the following Operating parameters chapter.

The status of the entries is displayed below the list. If any of the required values are still missing, the corresponding message will appear with a cross in front of it.

Once you have entered all the necessary data, the Next button becomes active. Pressing this button opens the search results dialog, in which the suitable pumps can be selected and configured.

| | |
| --- | --- |
| | The view of the search result dialog differs slightly in the hydraulic selection from the appearance of the product selection browser. |